Free Flow PVC CURTAINS IN SCHOOLS AND NURSERIES
Unique ChildSafe system for Early Years
As a result of practice guidance issued by the DCSF in May 2008 for Early Years Foundation Stage, there is an increasing requirement for children to be able to 'free flow' between indoor and outdoor environments within schools and nurseries.
Installed nationwide from only £219.00 + VAT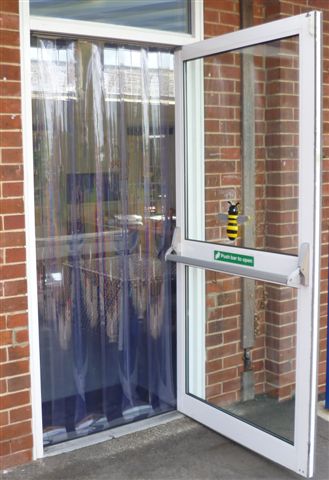 PVC Door Curtains
A constantly or even just frequently open door presents a number of issues. The most significant of which is usually the loss of heat from the inside environment, potentially costing hundreds of pounds in wasted energy costs.
DoorTECH provide high quality and competitively priced PVC curtains for schools and nurseries.
Our Free Flow PVC strip curtains retain the heat lost from Free Flow play whilst also having the added benefits keeping out dust leaves and any unwanted pests. DoorTECH' s PVC curtain is the safest option as it contain NO metal, unlike other distributors of PVC curtains. To accommodate for the loss of metal, we use a durable plastic head rail system where the PVC strips have an easy button on and off effect.
The PVC used in our Free Flow curtains is clear, this prevents any distortions unlike ribbed alternatives however coloured options are available. In addition, our PVC strip curtains for schools are an extremely high quality medical grade PVC, meaning it remains flexible even in colder temperatures.
Not only are the Free Flow curtains great for retaining heat, but are also extremely cost-effective. Our curtains are used across the country by a large majority of schools and nursery groups, so if you are thinking that you need a PVC strip curtain for your classroom, please call us on: 0845 838 5906 and we would more than happy to make your classroom a more comfortable place by supplying or Installing for you DoorTECH' s no.1 child safety curtain.
Safety assured with ChildSafe
DoorTECH supply and fit a unique PVC curtain system especially designed for schools and nurseries. The mounting rails are made from a high strength plastic instead of stainless steel or other metal. This means there are no sharp edges and no risk of injury should the curtain strips come free. The unique mounting system also makes the strips easy to remove and replace if required.
The PVC used for the curtain strips is a high quality and durable material that is non-toxic and will not tangle. It is also a superior softer grade than most alternatives which allows it to remain flexible even in colder temperatures.
Commercial and Industrial
Highest quality PVC curtains for all environments, supplied and fitted nationwide
To speak to one of our professional advisors