Door Slam Stop is ideal for preventing injury on the handle side of doors. Designed primarily for use in child care centres and the home, Door Slam Stop can also be effective in most other environments.
The handle side of doors represents a dangerous risk of injury equal to that on the hinge cavity side.
Doors without closing mechanisms – making them susceptible to slamming as a result of through drafts – and those with poorly adjusted or faulty closers pose the greatest risk.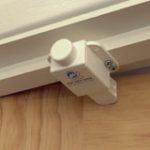 Slam Stop
The anti door slam device works by locking itself when a door attempts to close at speed and with force. It then releases itself, enabling the door to slowly close fully. Simple and easy to install, Door Slam Stop will work with most wooden frame doors and comes complete with fixings and fitting instructions.
Safe Stop
For metal doors, UPVC doors and internal/external gates there is an alternative solution to the risk of handle side accidents using Door Safe Stop. This device is also suitable for fitting to wooden doors, especially double doors and twin pivot doors.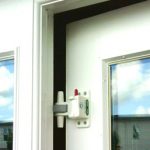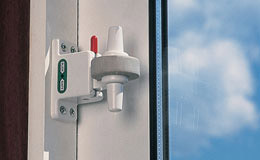 SlideSafe ™
The No1 sliding door stop
Although less common nowadays, sliding patio doors also present a danger of finger and hand injury. SlideSafe ™ creates a safe gap between the door's leading edge and the closing jam. Installed at a height out of reach of small children, the device can be manually cancelled by a responsible adult at any time by engaging the red-capped hold-back pin. Disengaging the pin will reactivate the device.
To speak to one of our professional advisors