Guarantee all-round door safety by installing the Door Hinge Protector device
  This door hinge guard covers the gap that is created on the hinge pin side of a door, when the door is in the open position.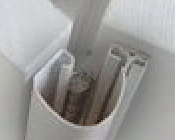 Used in conjunction with Door Finger Protector ® the risk of finger entrapment accidents on the hinged edge of doors is totally eliminated.
Suitable for
As with Door Finger Protector ®, all types of doors including wood, metal and UPVC – as well as doors which open to 180 degrees, can be fitted with theDoor Hinge Protector device.
To speak to one of our professional advisors